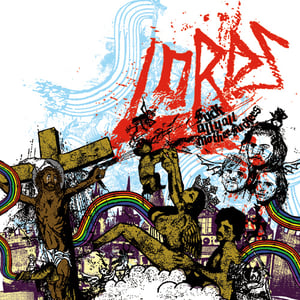 €

10.00
WE HAVE A NEW ONLINE STORE; IF YOU WANT TO ORDER THIS RECORDS (AS WELL AS HUNDREDS OF OTHER ITEMS) PLEASE CHECK THE NEW WEBSITE:
http://www.destructure.org/shop
.
.
.
.
.
Ltd pressing for the european tour. Earlier this year, LORDS from Louisville, Ky, released their second album on Black Market Activities. FAYMF is a the long awaited following to Swords that was released in 2005 on Jade Tree Records. This new album features 16 intenses songs in 23 minutes with no breaks, no time to rest. A noisy and crazy sonic cocktail of thrash, hardcore punk and metal that will blow your ears down ! This 300 copies limited pressing on colored vinyl will be packed in a beautyfull sleeve with impressive design by stan doll. LORDS will be on tour all over Europe from nov. 13th till dec. 22, don't miss them !
D19: 300 copies on white vinyl
TRACKLISTING:
A1. This Isn't a Song Dumbass
A2. Robbed, Raped and Beaten
A3. Why I Don't Give a Fuck
A4. Waist Deep in Shit
A5. Obstructionist Blues
A6. Fucking with Fire
A7. the leginald of reginald
A8. Damnation of Memory
B1. I Know What You're Doing
B2. Blasphemy Act
B3. Intermission
B4. To Kill or Die Trying
B5. Goodnight Sweet Prince
B6. When No One's Looking
B7. Man, Everything Sucks
B8. Cause All of You Are Fucked
Recorded at Headbanging Kill Your Mama Music by Chris Owens.
Mastered at Golden Mastering by John Golden.