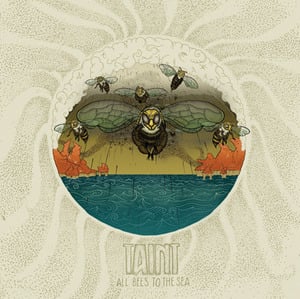 €

10.00
WE HAVE A NEW ONLINE STORE; IF YOU WANT TO ORDER THIS RECORDS (AS WELL AS HUNDREDS OF OTHER ITEMS) PLEASE CHECK THE NEW WEBSITE:
http://www.destructure.org/shop
.
.
.
.
.
4 brand new songs plus full live set from Roadburn 2008. After two albums on Rise Above Records & several tours everywhere in europe, TAINT from UK, is back with 4 new songs including on side B "All Bees To The Sea" a 12 min journey to the sea. The CD version includes the new songs and full live set from their Roadburn 2008 performance. The Roadburn set is untouched, un-fixed and raw as a skinned dog. The vibe that night in Tilburg was electric and it comes across in this great document·
TRACKLISTING:
1. Black Rain
2. Despite Isolation
3. Prey The Wind Don't Change
4. All Bees To The Sea
Live @ Roadburn:
5. Hex Breaker
6. Corpse Of Love
7. Poison Pen Attack!
8. Goddamn This City
9. Born Again Nihilist
10. Mass Appeal Sadness
11. Drunken Marksman
All Bees To The See recorded throughout April 2009 at State Of Art Studios and Rollin' Rex Studios, Bristol, England.
Mixed and mastered at Studio De La Souleuvre, Normandie, France.